Dear Colleagues, Dear Researchers,
GP2A (Group for the Promotion of Pharmaceutical chemistry in Academia) is delighted to announce the opening of the registration for the 31st Annual GP2A Medicinal Chemistry Conference at the School of Pharmacy, Aix-Marseille Université, Marseille – France, 23-25th August 2023.
Faculty of Pharmacy of Marseille
27, Boulevard Jean Moulin
CS 30064 – 13385 Marseille CEDEX 5
TO REGISTER, PLEASE USE THIS LINK:
https://www.azur-colloque.fr/AMU/inscription/inscription/239
Registration and fees: Registration can be achieved via the Azur-colloque platform. You can pay either by credit card or bank transfer (via purchase order for French colleagues). The fee includes the welcome reception on Wednesday evening, lunch on Thursday and Friday, and coffee breaks on all days. Fees are: PI, professor, lecturer, postdoc: €300; PhD, master students: €230. There is a €50 discount for GP2A members. If you are not already a member, and would like to join, please use the link below.
Link to join the GP2A: https://gp2a.org/index.php/gp2a-membership/
The provisional schedule is available here! We have a fantastic line-up of invited speakers.
Accommodation Options for Conference are proposed here!
The abstract template and information for submission are available here!
Abstract submission and poster/communication will eventually not be considered if the main author is not fully registered as a participant to the conference by the closing date for abstract submission (30th June).
Poster submission: You can submit your poster abstract, using the dedicated Word template, and send it as a DOCX file to gp2a2023@gp2a.org by the 30th of June 2023.
Application for oral communication: The organising committee will select 10 attendees for oral communications during the conference. The deadline to pick this option is the 30th of June 2023. For those who will not be selected, please select a second option (poster submission or no communication) to notify the organising committee of your second choice.
The date for final registration (without abstract submission) is 30th June.
Any further enquiries can be directed to: gp2a2023@gp2a.org.
For information regarding the Faculty of Pharmacy of Marseille:
https://pharmacie.univ-amu.fr/en/home
For some information regarding the city of Marseille:
https://www.marseille-tourisme.com/en/
For more information about the GP2A network, please feel free to visit our website: www.gp2a.org
We look forward to welcoming you to Marseille.
Dr. Nicolas Primas, Aix-Marseille Université – France, Organising committee
Prof. Pascal Marchand, Nantes Université – France, President of GP2A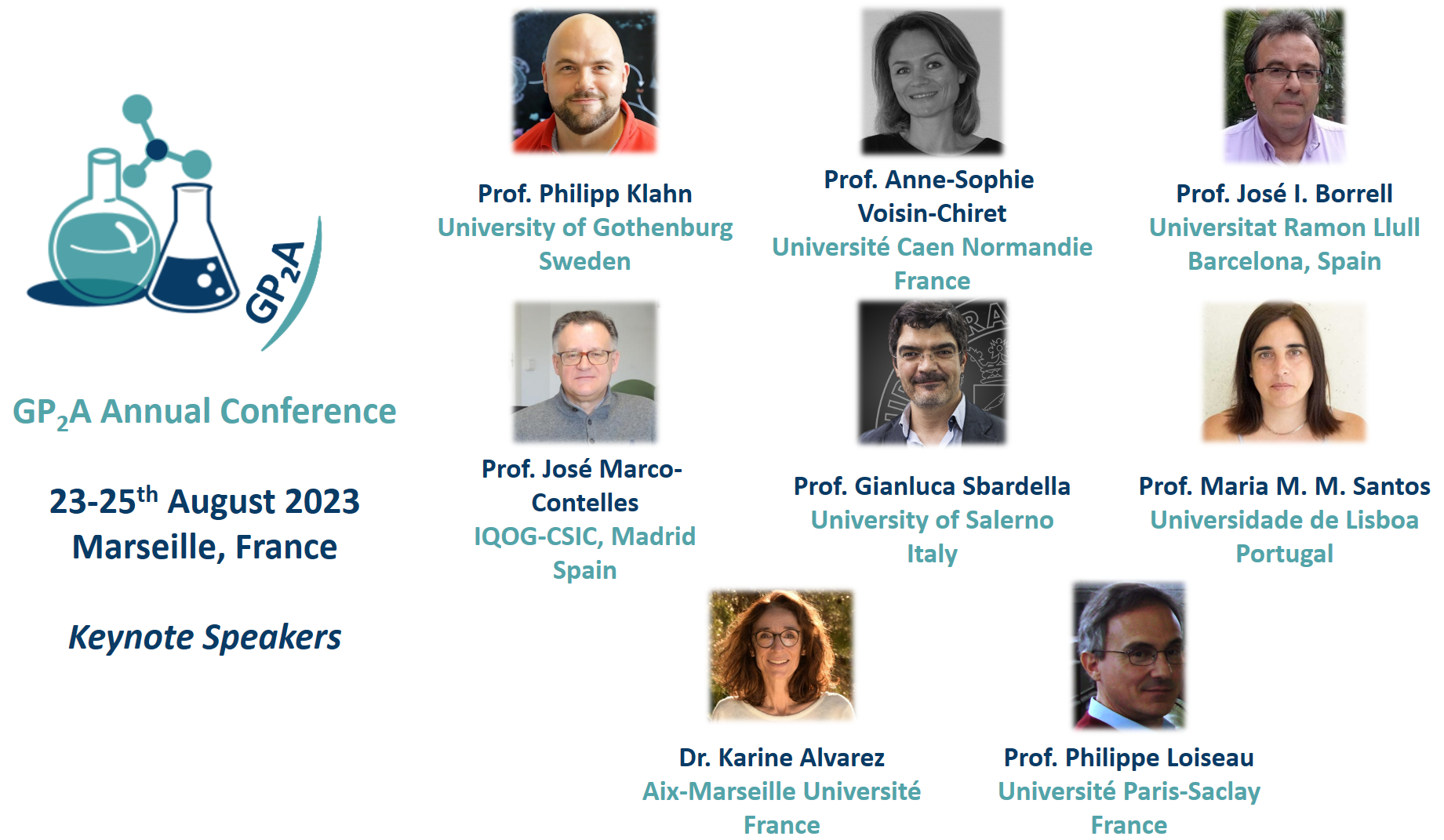 ---